The pen is mightier then the sword.
Entry posted by Guest ·
863 views
Karikatur er ofte sterke ytringer i form av tegning, ofte påført et lite sitat eller to. De forklarer på en fantastisk måte bedre enn den mest beskrivende artikkel selve essensen i ulike situasjoner og setter prinsipper i perspektiv. Så uten å kaste bort flere ord vil jeg her presentere en liten knippe. Ikke mange ord i dette blogginnlegget, men uten tvil det mest beskrivende jeg noensinne har skrevet."The most valuable of all talents is that of never using two words when one will do."Ytringsfrihet:
Å bli truet til taushet:.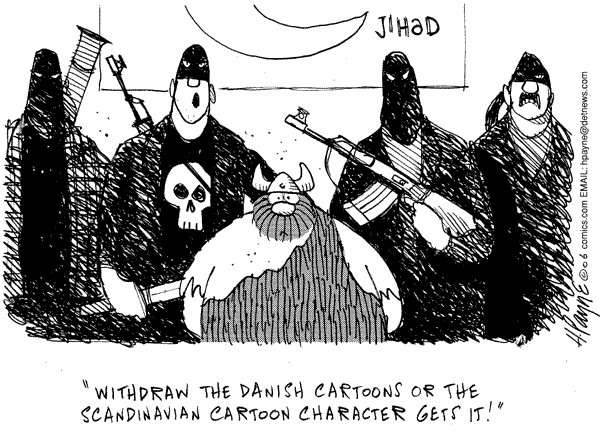 Amerikanske krigsfanger:
Kapitalisme? :
LOs midtøstenstandpunkt:
FRP? :
Triggerhappy:
Sosialist? :
Den mest skremmende terror i midtøsten? :
Har du noen bidrag?